Heather's
Chiropody
Surgery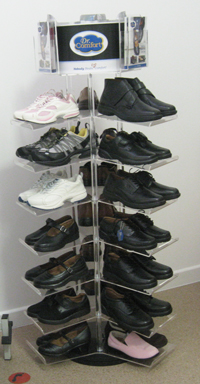 We believe that feet are the body's foundations and when your feet feel good, you feel good too.
Keeping your feet in great condition requires a brand that can give you expert care and support whatever your foot care needs; from stylish 'right fit' shoes to foot care solutions for specific foot conditions

Comfort and quality are exactly what the doctor ordered. Our range of uniquely stylish orthopedic shoes that look as great as they feel! Our shoes, slippers, socks and inserts are designed to keep your feet healthy and happy - today and tomorrow.
Dr. Comfort's shoes, slippers and socks are the best fitting, finest quality therapeutic footwear available.
In many cases, our shoes are covered by Medicare.
Heather is a Registered Surgical Chiropodist Member of The Association of Chiropodists & Podiatrists, HPC Registered G.C.S.Ch., M.Inst.Ch.P., M.F.S.Ch.

Gift vouchers Available for all our services. Treat someone to a special gift. How about you?